Oxytetracycline HCl Injectie

Oxytetracycline is een breed spectrum antibioticum met een bacteriostatische werking tegen een groot aantal gram-positieve en gram-negatieve organismen, die wordt meestal gebruikt voor vee, schapen, geitenvlees en hond. Oxytetracycline injectie is intramusculaire injectie Vee: 0.05-0.1ml per kg lichaamsgewicht. Oxytetracycline injectie is niet aanbevolen voor gebruik bij paarden, honden en katten en niet het product te gebruiken in ooien die melk produceren voor menselijke consumptie.
Samenstelling: 5%, 10% en 20% (per 1 ml bevat 50 mg oxytetracycline, 100 mg of 200 mg)
indicaties:
Oxytetracycline HCl Injectie 10% is in infecties van de ademhalingswegen en urogenitale tracten, maagdarmkanaal en de zachte weefsels; in septische omstandigheden; bij secundaire bacteriële infecties bij virale ziekten veroorzaakt door oxytetracycline gevoelige pathogene microorganismen (colibacillose, salmonellose, pasteurellose, leptospirose, listeriose, bronchopneumonie, actinobacillose, anaplasmose, varken erysipelas); bij mastitismetritisagalactia (MMA) syndroom bij zeugen; bij metritis, mastitis, postoperatieve aandoeningen, enterotoxemie, pyelonefritis, tetanus, voetrot, kwaadaardig oedeem, infectieuze polyartritis, spirochetose, enz. bij grote en kleine herkauwers, paarden, varkens, honden, katten, bontdraende dieren (vos, mink ) en vogels.
Contra indicaties:
Dieren met nierinsufficiëntie; zwangere dieren; pasgeboren dieren.
Niet van toepassing op jonge dieren tijdens de tandontwikkelingsperiode (het kan leiden tot bruine kleur van de tanden). Niet toedienen aan de paarden, honden en katten intraveneus.
Het is niet raadzaam om tegelijkertijd met chemotherapeutica met bactericide activiteit te worden gebruikt.
Dosering en administratie:
Voor intramusculaire, subcutane en langzame intraveneuze injectie.
| | |
| --- | --- |
| SPECIES | Oxytetracycline injection |
| Large ruminants and horses | 300-500mg/50 kg b.w. (in anaplasmosis – 1000mg/ 100 kg b.w.) |
| Sheep and goats | 200-300mg/50 kg b.w. |
| Pigs | 50-100mg/10 kg b.w. |
| Dogs | 100mg/10 kg b.w |
| Cats | 10mg/kg b.w. |
| Fowls | 30-50mg/kg b.w. |
| Minks and foxes | 200mg/10 kg b.w. |
De hogere doses van elke doseringsschaal zijn bestemd voor de jongere dieren van de respectieve soorten.
De voorbereiding moet eenmaal daags gedurende 3-5 dagen worden toegepast.
Onttrekkingstijd:
Vlees: 10 dagen Melk: 3 dagen.
Waarschuwing:
Buiten bereik van kinderen houden.
verpakking:
Ampulfles: 5ml, 10ml.10ampoules / lade / kleine doos. 10box / middelste doos. Of pas aan.
Mouldfles: 5ml, 10ml, 50ml, 100ml.
(Multidose injectieflacons van 100 ml.)
opslag:
In de originele verpakking goed gesloten, in droge ruimte, faciliteiten, beschermd tegen direct zonlicht
temperatuur bet ween 15 ℃ en 25 ℃. Niet bevriezen. Bescherm tegen vorst.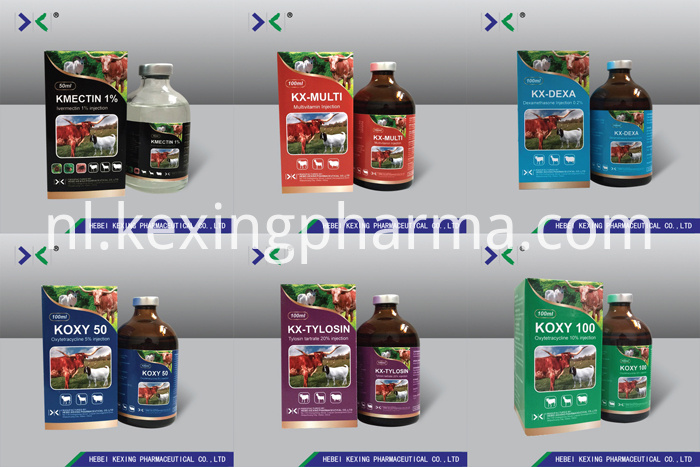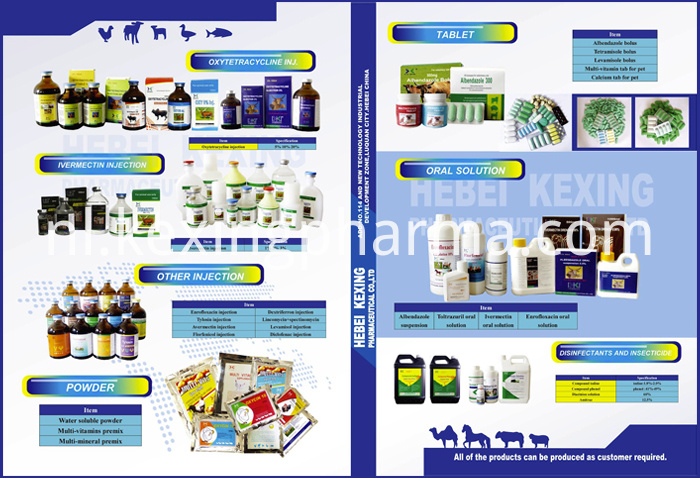 Hebei Kexing Pharmaceutical Co, Ltd

Contactpersoon: De heer kenneth Yang
Tel: 86-311-80677112
Fax: 86-311-80677113
Adres: NO.114 Hoge en nieuwe technologie Industriële Ontwikkelingszone Luquan, Shijiazhuang, Hebei
Product Categorie : Dierlijke antibacteriële geneesmiddelen > oxytetracycline