Oxytetracycline HCl 200 mg
Oxytetracycline is effectief tegen someprotozoa. Terramycin Powder is geïndiceerd voor de preventie en behandeling van infecties veroorzaakt door bacteriële en Mycoplasma-organismen bij pluimvee, dwz CRD, sinusitis, infectieuze coryza, pneumonie Blauwe kam & synovitis. Oxytetracycline Poeder meestal gebruikt bij kalveren, geiten, pluimvee, schapen en varkens. Terramycin Poederonttrekkingsduur voor vlees dient meer dan 8 dagen te zijn.
Beschrijving
Tylan Powder Chickens and Cattle is een breed-spectrum antibioticum, effectief tegen een groot aantal
Gram-positieve en Gram-negatieve bacteriën (behalve Pseudomonas, Klebsiella en Proteus spp.).
indicaties
Terramycin Powder 20% is effectief tegen Actinomyces, Rickettsia, Mycoplasma en Chlamydia en wordt daarom geprezen voor de behandeling van Mortellaro, Moraxella bovis conjunctivitis bij kalveren, Atrofische Rhinitis en het MMA-syndroom bij varkens, Pasteurella multocida en Mycoplasma-infecties bij pluimvee. Het antibioticumeffect is bacteriostatisch.
Contra-indicaties
Niet toedienen aan dieren met nier- en leverstoornissen. Na een langdurige behandeling kunnen complicaties optreden als gevolg van vitamine B- en vitamine K-tekort, die worden veroorzaakt door verstoringen in de microbiologische spijsvertering.
Bijwerkingen
Geen.
Onverenigbaarheid met andere geneesmiddelen of stoffen
Niet combineren met andere antibiotica zoals penicilline en cefalosporine.
Dosering en administratie
Voor orale toediening via voer of drinkwater.
Tylan Powder Chickens: 200 g per 200 - 300 liter drinkwater gedurende 4 - 5 dagen.
Terramycin Cattle: dagelijks 200 mg per kg lichaamsgewicht, gedurende 3-5 dagen.
Terramycine-varkens: 2.000 g per 1.000 kg voer of 100 mg per kg lichaamsgewicht tot een maximum van 200 mg per kg
lichaamsgewicht dagelijks, gedurende 3 - 5 dagen.
Gemengd met diervoeder moet het product onmiddellijk worden gebruikt. Gemedicineerd drinkwater moet binnen 24 uur worden gebruikt.
Hoge concentraties ijzer, koper en calcium in het water kunnen leiden tot de vorming van coagulatiecomplexen.
Wachttijd
Vlees: gevogelte: 7 dagen
Kalveren, varkens: 8 dagen
Eieren: 7 dagen
opslagruimte
Bewaren op een droge, donkere plaats tussen 2 ° C en 25 ° C.
Bewaar in gesloten verpakking.
Geneesmiddelen uit de buurt van kinderen houden.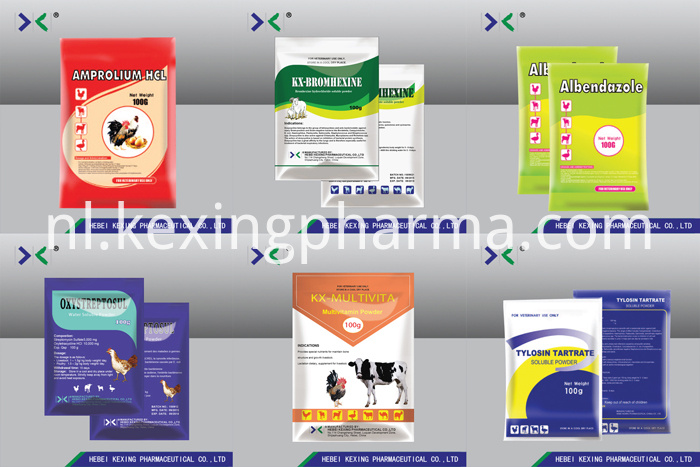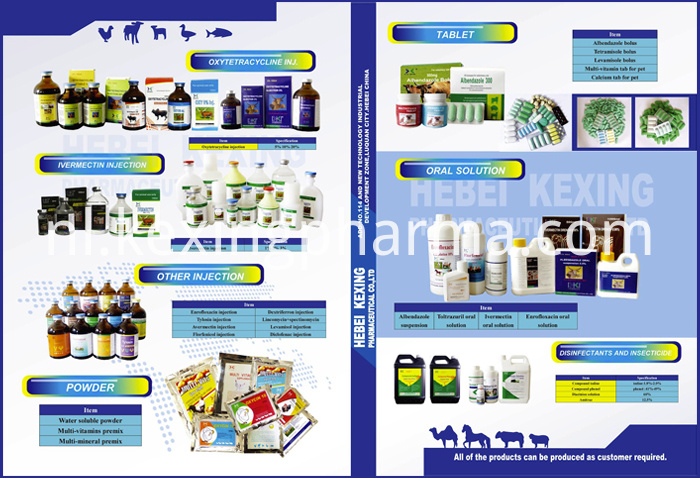 Product Categorie : Dierlijke antibacteriële geneesmiddelen > oxytetracycline